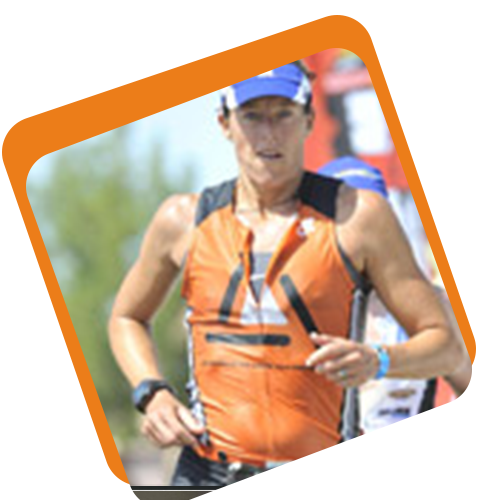 A Team of Supportive
Coaches Trusted by Athletes
Debi Bernardes,
Owner and Founder
USAT Level II Certified Coach, CrossFit Level 2 Trainer, FRC Certified, Strongfirst Coach Certified, RPR/BE-Activated L2 Practitioner
Consultant/Owner of UCANDOIT Coaching Group. Currently retired from active coaching.
Debi has had an extensive background in the sport of not only triathlon but also in running and swimming. With over 35 years of coaching experience and race experience, she can help you navigate through your first sprint triathlon to an Ironman. From your first 5k to marathon and even ultramarathon, her extensive knowledge in the sport can help you show up at the starting line feeling not only ready but confident that you will have the race of your life.
Experience:
B.S. Physical Education, Drake University, 1980.
Coaching experience: Two high school cross country and track teams, several years as a USS Age Group Coach/Head Coach, several years of Head Coaching summer league swimmers, Head Coach with King George High School Swim Team from 2007-2015. Owner and operator of UCANDOIT Coaching group since 2000.
Debi has coached several age group athletes to the professional level and age group athletes to podium finishes.
Crossfit L2 Coach – Bio Crossfit – Head Coach
USAW L1 Coach
Be Activated L2 Practitioner, Reflexive Performance Reset L2 Practitioner.
StrongFirst KB Instructor
Focus: Beginner to Pro Athlete
Jimmy Sosinski,
CEO UCANDOIT Group, Pro Triathlete
HEAD Coach Triathlon
Jimmy Sosinski has been involved with competitive running for over 20 years now from high school through college as an athlete on scholarship, from marathon running to triathlon. Jimmy grew up as a long-distance sprinter then transitioned to long distance running in 2009 and triathlon starting in 2010. Jimmy has completed the Marine Corps Marathon in 2009, 2010, and 2015, where he qualified for the Boston Marathon in 2012 and 2017. In 2017, after overcoming injury and a 6-week hiatus that sprang from running, Jimmy competed in the Boston Marathon with a PR of 2:49.
Jimmy began his triathlon career in 2010 at the Nation's Triathlon and completed his first Ironman 70.3 in 2011, and his first Ironman at Lake Placid in 2012. Jimmy has completed 2 to 3 Ironman 70.3's every year since 2011, and has competed at the Ironman 70.3 World Championships in Mont Tremblant in 2014 and Chattanooga in 2017.
His goal from the start of his triathlon journey was to qualify for the Ironman World Championships in Kona, HI. Jimmy has completed Ironman Lake Placid (2012 & 2013), Ironman Maryland (2014), Ironman Muskoka (2015), Ironman Texas (2016), and Ironman Lake Placid (2017). Jimmy qualified for the 2017 Ironman World Championships at Ironman Lake Placid (2017) by placing 1st in the 35-39 age group (PR of 9:23), and taking 4th amateur and 15th overall. He completed the Ironman World Championships in 2017 with a time of 10:02.
Jimmy has decided to turn pro starting in 2018 and will primarily race Ironman 70.3 distance races throughout the year. He has also decided to take his passion and love for the sport and begin coaching runners and triathletes with the goal to help them reach their goals while in turn, educating each athlete about the training and racing process.
In his spare time, Jimmy enjoys traveling with his wife, Brandi, and his 5-year-old daughter, Hailey, and new son, AJ. He enjoys competing in cyclocross in the off-season, cooking, and playing the occasional round of golf.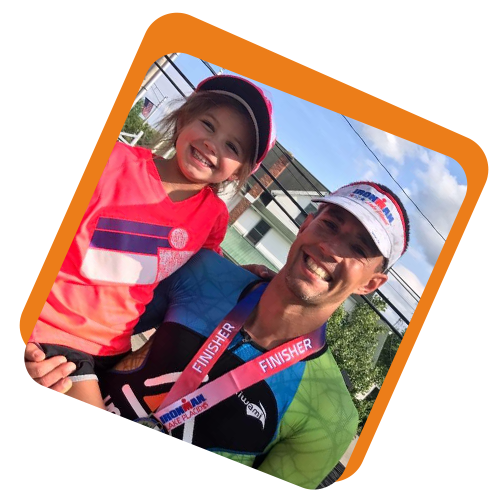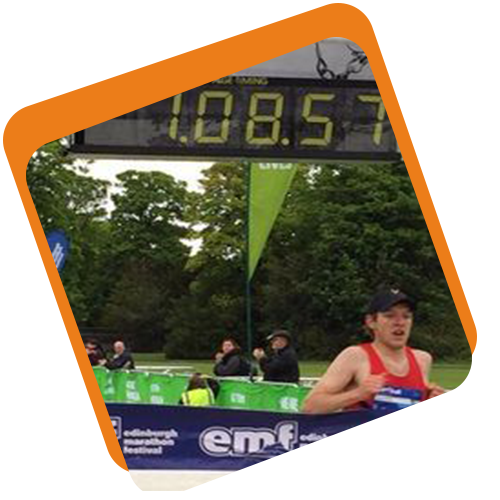 Thomas Porter,
Run Coach, M.S. Ed. Exercise Physiology
Head Coach Running
Thomas finished 3rd place at the Footlocker High School Cross Country National Championships and was a three-time State champion in Virginia. Unfortunately, he had a slow start to his collegiate career after a redshirt year with surgery to repair an aneurysm discovered during routine athlete screening at the University of Virginia. His rehabilitation program began with a 9-minute walk on the treadmill and concluded 12 months later with a 3rd place finish in the ACC Championship 5km run. He would go on to earn Second-Team All-American Honors in the 10km run, with PRs of 29:34 in the 10km and 14:03 in the 5km. He captained the UVA Men's Cross Country team to a 13th-place NCAA finish, and earned NCAA and ACC Postgraduate Scholarships for athletic, academic performance & involvement in the community.
During a master's program in Exercise Physiology, Thomas counseled cardiovascular rehabilitation patients in diet & exercise. After graduation, he coached the Cross Country and Track & Field programs at The Bryanston School in Dorset, England, qualifying multiple athletes to the English Schools National Championships. Thomas ran the 2015 London Marathon alongside World Record Holder Paula Radcliffe, finishing a few strides behind her in a gun time of 2:37. He has continued to compete in shorter road races, boasting a personal best of 1:07 in the Half-Marathon. He currently works in the Project Management field of Technology Consulting in Nashville, TN.
Catherine Geiszler,
Run/Tri
Run Coach, RPR L2 Practitioner
Catherine has been a multi-sport coach at multiple levels, all the way from summer-league swim team to Olympic gold medalist Paul Ereng in 800m track (long story, just ask her sometime). She's coached high school cross country, track, swimming, boys' lacrosse, and girls' tennis. Currently, while working full time as an engineer and as a mom to her 3 kids, she's coaching adult and youth running and masters' swimming. Catherine has a master's in sports medicine and was formerly certified as an athletic trainer (ATC) and a licensed massage therapist. She was on the sports medicine staff at the University of Virginia, at the Atlanta Olympics and also worked for Bruce Arena during his initial stint as the US men's national team soccer coach. Catherine loves working with athletes at all levels and watching them improve in their sports.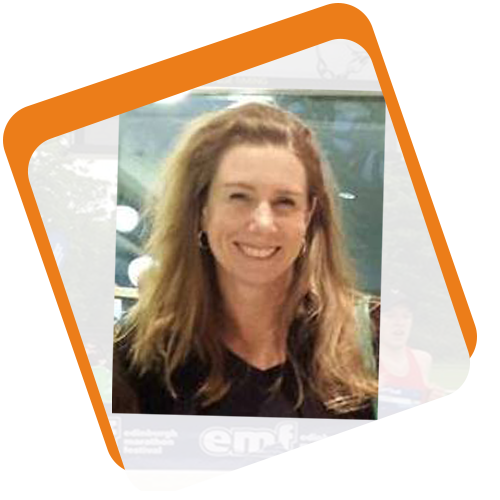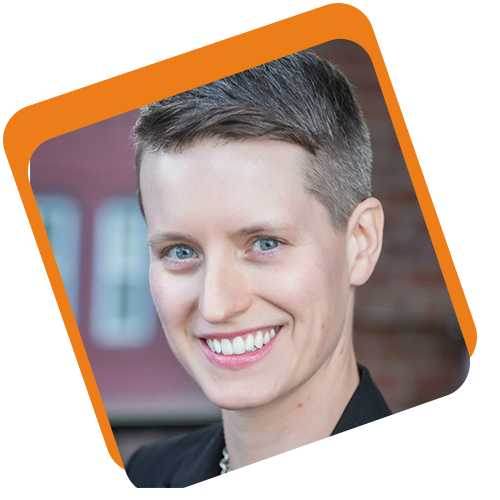 Grace Thompson,
Strength/Conditioning, Triathlon Coach
Certified Personal Trainer - National Council on Fitness and Strength (NCSF) · Certified Personal Trainer - America College of Sports Medicine (ACSM) pending · TRX- Group Training & Suspension Training Courses · CrossFit - Kettlebell RX 1.0 (now through Tactical Athlete) · Functional Movement Screen FMS Level 1 · Gray Institute Functional Soft Tissue Transformation (FSTT)
A competitive multi-sport athlete, with region and national accolades in bouldering, kettlebell, running and triathlon events.
My professional background includes fitness training, health, and athletic coaching.
I work to inspire other athletes to achieve their best through intelligent athlete specific programming, improving resiliency, smart nutritional guidance, and decreased likelihood of injury.
Lauren Lipsey,
Triathlon Coach
A lifelong athlete, Lauren competed in her first triathlon at the age of 10, but didn't adopt the sport as a lifestyle until she was into her 30's and seeking to inject balance into her life by finding something outside of work on which to focus her attention.  
Since then, she has risen to be a top-ranked USAT Age Group triathlete, winning multiple local races of varying distances and finishing at or near the top in her age group at regional and national races - including 7th AG in Oly Distance and 4th AG in sprint distance in back to back days at USAT Nationals in 2019.  
She considers the 70.3 distance to be her favorite (write us to find out why!).  She won her age group at Ironman 70.3 Ohio in 2018, and is a two-time Ironman 70.3 World Championship finisher.
Lauren, who would introduce herself as a swimmer/runner, was coached for many years by Debi Bernardes, whose personalized approach to training and coaching helped develop cycling as Lauren's relative strength in racing.  Lauren seeks to emulate this approach with her athletes, emphasizing quality training, development of skills to adapt to training stress and environment, and working to mitigate the impact of life factors that affect training and racing performance (sleep, diet, stress, and more).  Lauren believes that the key factor to success is finding outlets for being active that keep an athlete stimulated and engaged, and that break the normal training routine.  For her this means doing yoga, showboarding, rock climbing, and taking any opportunity to get off road for trail running or cycling.  Ultimately, she wants to help her athletes adopt a similar balanced, yet focused approach to triathlon that helps them grow stronger as athletes through enjoyment of the process to achieving their goals.